If you're dreaming about a fun night in Bangkok with the most beautiful Thai girls, you're in the right place.
Bangkok is home to some of the best gentlemen's clubs in the world.
And if you're not familiar with gentlemen's clubs, it's the closest thing to a strip club you'll find in Thailand.
Each of them has live music, erotic shows, a lot of pretty girls to party with you, and private rooms for a private party.
So bachelors pay attention, here's where you need to book for a wild night in Bangkok.
The PIMP Bangkok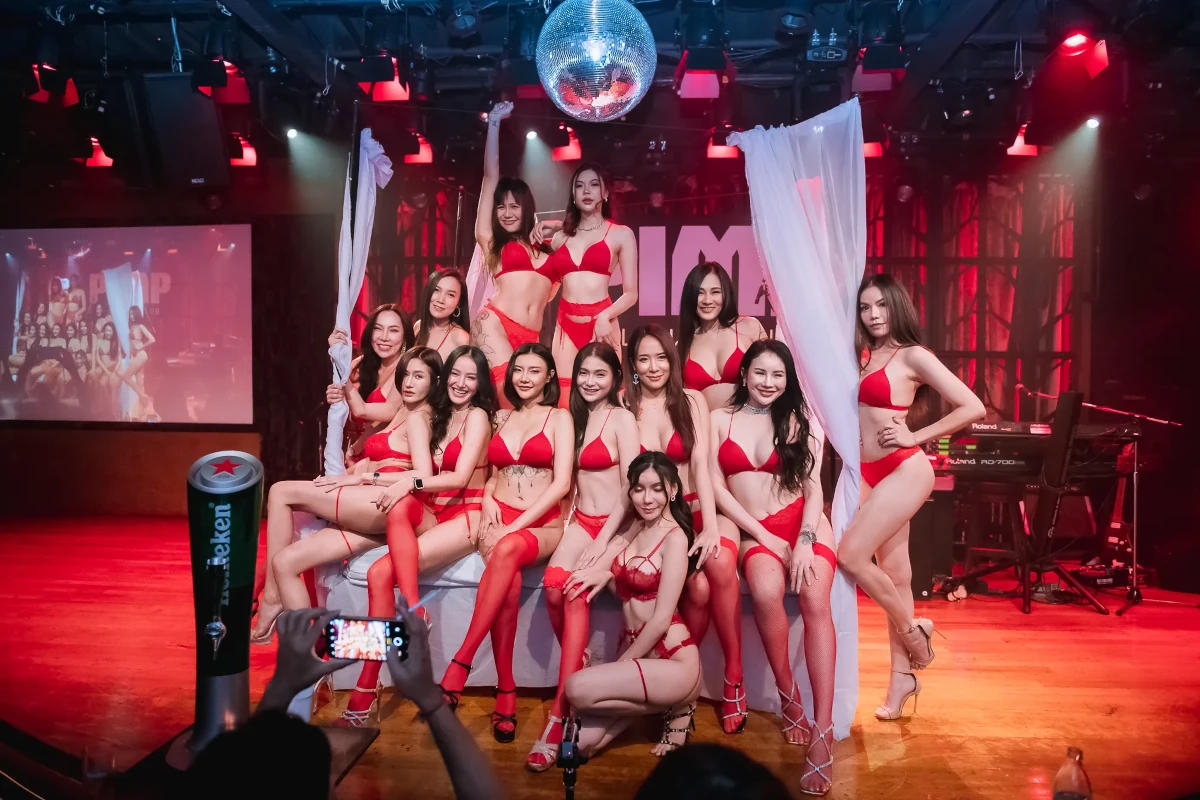 The PIMP Bangkok is at the top of every review you can find, and there are good reasons for that.
This gentlemen's club is the go-to place for locals, expats, foreigners, and every group of guys coming to Bangkok for a bachelor party.
Why?
Because they have the hottest AND the wildest Thai girls you can find in Bangkok.
Have you ever found yourself with gorgeous girls who are boring as f*ck?
That's never going to happen at The PIMP.
The club also has great live entertainment with live music and DJs every night, and themed nights with erotic shows once a week.
If you want some privacy, book a VIP room.
They have 18 VIP rooms, with the biggest that can easily fit up to 30 people or more.
They even have a pool area if you want to organize a private pool party with the most beautiful Thai bikini models!
Elite Thonglor 13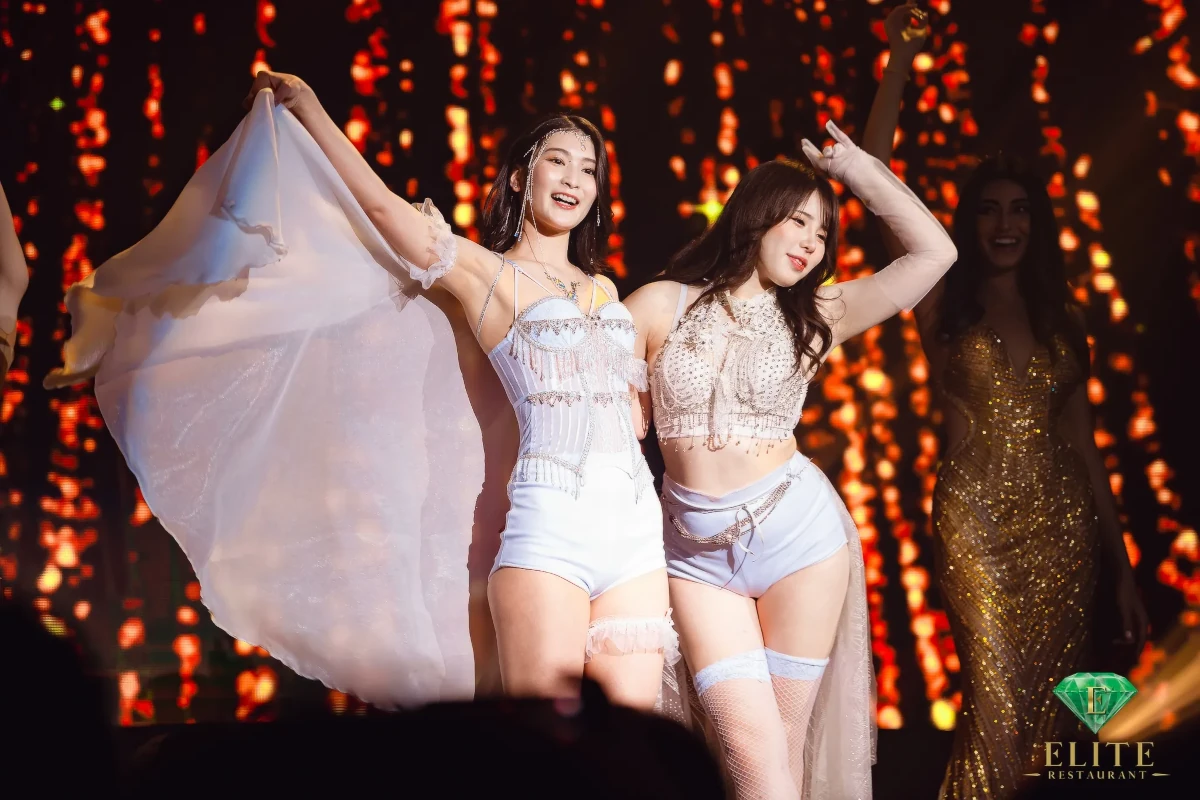 The biggest gentlemen club in Bangkok is Elite Thonglor 13.
Located in the center of one of Bangkok's most trendy areas, Thonglor, this club is all about high-end parties.
The place is massive, with dozens of VIP rooms, and a main room that can easily host over 300 people.
In the main room, you'll find live music, dancers, and DJs performing every night for a show that has nothing to envy to Bangkok's most popular nightclubs.
But of course, what makes Elite so attractive is their stunning hostesses.
They have the most beautiful and classy girls there.
All there to make sure you have the time of your life.
And the service is excellent too.
To get some privacy, book a VIP room and invite your friends.
The biggest VIP room at Elite can have over 100 people.
Just keep in mind that it's also the most expensive place on this list, so don't go there if you're short on cash.
The Play Exclusive Club
The Play Exclusive Club is another well-known gentlemen's club in Bangkok.
This one is located in the nearby RCA area.
This place is a bit more accessible.
The club area is huge and has excellent live music and DJs everything.
But The Play is also known for its excellent performances and dancers.
Now regarding the girls, there is a ton of beautiful birds there and the girls are all super friendly.
Start the night in the club, and end up in one of their private karaoke rooms.
You'll have a blast singing with your mates and the beautiful company.
Czech Club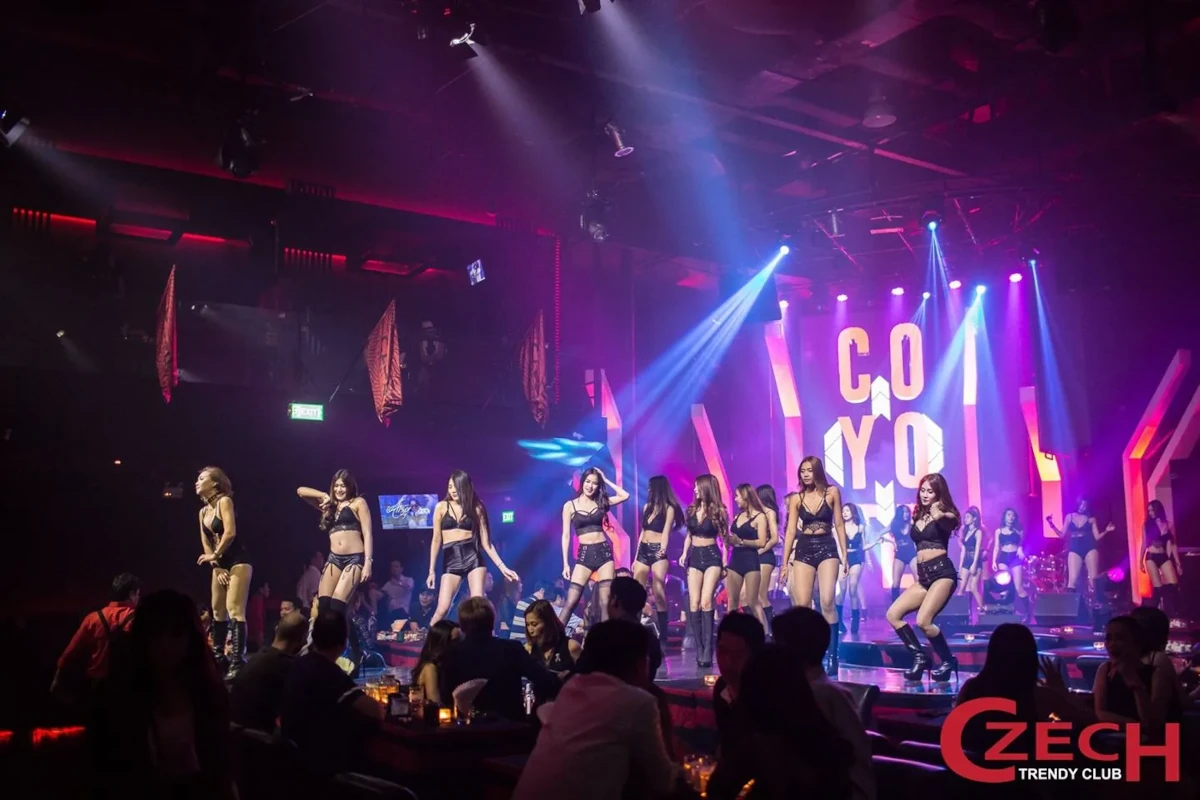 Czech Club is Ekamai's most notorious gentlemen's club.
Rebranded during COVID, it's now got a fresh look, some seriously stunning girls, and a killer lineup of artists that keep the energy high all night long.
The club has also stepped up its entertainment game with its own hot female DJs and live bands that light up the stage every weekend.
The main club area might lack big comfy VIP sofas, but hey, you're here to party, right?
But if you want to chill with the hot ladies in a more intimate setting, you've got to check out the VIP rooms.
Equipped with a karaoke machine, TV, and even a pool table for the biggest ones, these rooms are perfect for a private party in Ekkamai.
Dubai Luxury Club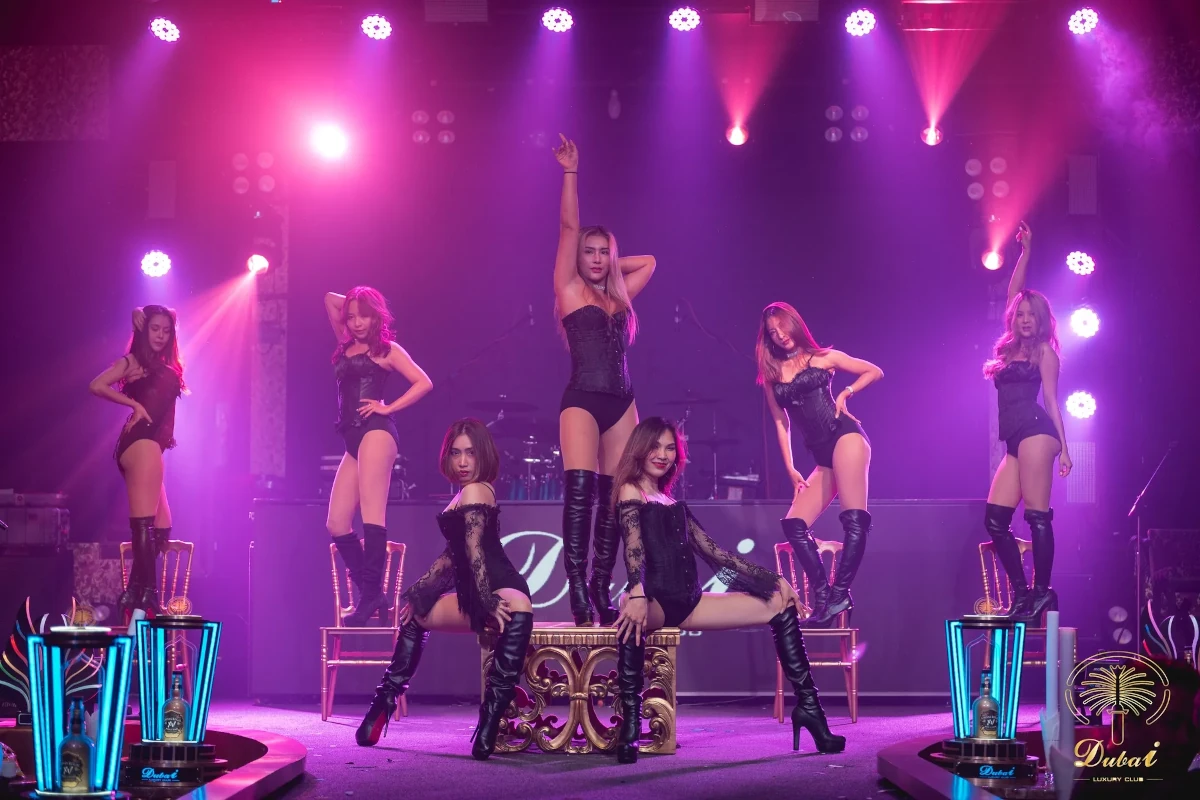 As the name suggests it, this gentlemen club is themed after middle eastern palaces.
Welcome to Dubai Luxury Club, your Middle Eastern oasis in the heart of Ratchada, Bangkok.
This place isn't just a club, it's an experience that blends east with west, giving a unique flavor you won't forget.
And it has everything you need for a fun night.
As soon as you walk in, you're welcomed into an Oriental palace-inspired setting.
Inside, live music, vibrant shows, and captivating Thai dancers set the atmosphere for an incredible night.
But what sets Dubai Luxury Club apart?
Its impressive range of VIP karaoke rooms.
No matter the size of your party, they've got you covered.
Enjoy a selection of songs, your private waiter, and even a pool table in larger rooms.
It's not just the surroundings that impress.
Dubai Luxury Club is home to some of Bangkok's most stunning Thai models, ready to party till sunrise.
FAQ
What happens inside a gentlemen's club?
Inside a gentlemen's club, you'll meet beautiful girls, enjoy great music, and enjoy service.
You can watch the live shows, have a drink, play games, sing, and dance, in the company of stunning girls.

How much is a gentlemen's club entry in Bangkok?
Entry fees can change from club to club.
Some clubs have no entry fee while others have a minimum spend per guest.
But always ask the club for the exact price.

How much cost a party at a gentlemen's club in Bangkok?
A party at a gentlemen's club usually costs between 5,000 and 15,000 THB per person.
The cost depends on the number of girls, if you get a VIP room or not, and of course on how much you, your friends, and the girls, drink.

What Are The Other Places To Meet Girls in Bangkok?
If gentlemen's clubs are not your thing or if it's too expensive, there are other options to meet girls in Bangkok.