ThaiCupid Review: The Best Site To Find Your Future Thai Wife
ThaiCupid is without a doubt the best Thai dating site for anyone looking for a serious relationship with a Thai woman.
Forget about swiping left or right and take advantage of ThaiCupid detailed profiles and advanced search to find your soul mate.
Age, location, appearance, lifestyle, background, religion… learn a lot about your future date before you even send a single message.
Yes, ThaiCupid free version is limited, and we recommend switching to a paid membership to use it to its full potential, but is it not worth it to find THE ONE?!
Sign up now on ThaiCupid and try it for free :
Now, if you're here to know more about the site before you create an account, here's our review of ThaiCupid.
Why Choose ThaiCupid?
ThaiCupid is one of the largest Thai dating sites, claiming over 3 million members in the world.
Online since 2002, ThaiCupid is also one of the most established dating sites in Thailand.
Because of its popularity and long history, ThaiCupid is used all over Thailand and by people of all ages, not only by young Thai girls in Bangkok.
The website is not as pretty as some of its competitors, and the features are not as playful, but that's not where the strength of ThaiCupid is.
ThaiCupid power is in the levels of details on profiles, the strict verification of profiles to avoid spam and scams, the advanced search filters, and a powerful matching features.
It might not be the easiest Thai dating site to use and not the go-to to find a quick date, but that's what makes it perfect for finding Thai singles looking to commit to a relationship.
You can find a one night stand on ThaiCupid, but the site is made for those looking for a serious relationship with a Thai woman or for Thai women seeking foreign men.
👍 Pros
Over 3 million users
Free sign up
Profiles ultra detailed

Advanced search to filter profiles by age, appearance, education, lifestyle, work…

Profile verification
Less spam than other dating sites
Fast support

Good value with a yearly membership (only $11.66 per month)
👎 Cons
No app for iOS
Limited messages on the free version
Expensive membership if you only subscribe for 1 month
How To Sign Up On ThaiCupid?
Click on the button below to sign up for free on ThaiCupid using your email or Facebook account:
It only takes a few minutes to create an account, and you can right away see all the girls available on the website.
But don't skip the part where they ask you to set up your profile.
Remember, ThaiCupid is for those searching for more than friendship.
Users there expect to learn more about you by looking at your profile and photos.
So put some time and effort to answer all the questions you're being asked and craft that perfect profile to attract matches.
Most of the questions are basic, and you're offered options to answer them, so it shouldn't take too long.
And when you're done, it's finally time to play.
How To find A Date On ThaiCupid?
With over 3 million users, then no shortage of attractive and interesting Thai girls on the site.
You can also appreciate that they show you the number of active people in real-time at the top left corner of the page when you log in.
Now to find your future date on ThaiCupid, you have to work for it.
No swipe function here; you're gonna have to go through the profiles manually.
But don't worry, ThaiCupid advanced search is there to help you find the right girls for you.
Searching For The Perfect Date
Advanced search is the best thing about ThaiCupid and why it's better than other Thai dating sites.
The popular dating apps like ThaiFriendly or Tinder are great for finding a date, but ThaiCupid is better to help you find a wife.
Forget about scrolling or swiping to end up with 0 profiles you like.
We've all been there, that's boring.
With ThaiCupid filters, you're guaranteed to find someone that matches what you're looking for and who share common interests.
As you can see above, there's a ton of filters available.
Here's a quick example of filters you can use:
Sex
Age
Location
Last active
Searching for
Appearance (height, weight, body type, ethnicity…)
Lifestyle (does she/he smokes, does she/he drinks, does she/he has kids or want some…)
Background and cultural values (nationality, English level, language spoken, religion…)
You can even filter profiles by Chinese sign or Star sign if that's what you're into.
As you can imagine, it's more than enough to get rude of all the profiles that don't match with what you want and to get you a bit closer to your future wife or husband.
And that's not all; when you find a profile that you like and click on it, ThaiCupid shows you right away if she matches with what you're looking for and if you match with what she's looking for.
Here's an example:
In green, you have the areas that match, and in red, the areas that don't.
This way, you can learn more about what's behind that beautiful Thai smile and if she's the right fit for you.
Now, if you don't have the time to go through hundreds of profiles, ThaiCupid also has a matchmaking feature available for premium members that show you the perfect profiles for you.
Because the site has a lot of information about its members, it's really efficient at matching the right people together in just a few seconds.
It worked like a charm for a lot of our friends; no doubt it will work for you too.
Sending Messages
Ok, now that you found profiles you like and saved them as a favorite, it's time to send them a message.
And that's where you get to the limitation of your free ThaiCupid account.
With a free account, you can only send messages, chat with premium members, and see who responded to you.
But to read the messages you received from free users, you need to switch to a premium membership.
That makes the free account pretty limited, and we feel like ThaiCupid should offer more messages on the free version.
But hey, the site is not going to pay for itself, and the price to pay is pretty reasonable considering the platform's quality (more on that later).
That being said, once you've got access to unlimited messages and you've started the conversion with your future date, it gets really easy from there.
Chat
ThaiCupid has an instant chat built-in for members, so you don't need to leave the site to chat, or even video call each other.
You don't need to ask for her Line ID or phone number.
You can keep the conversation on the app and take it everywhere with you.
ThaiCupid App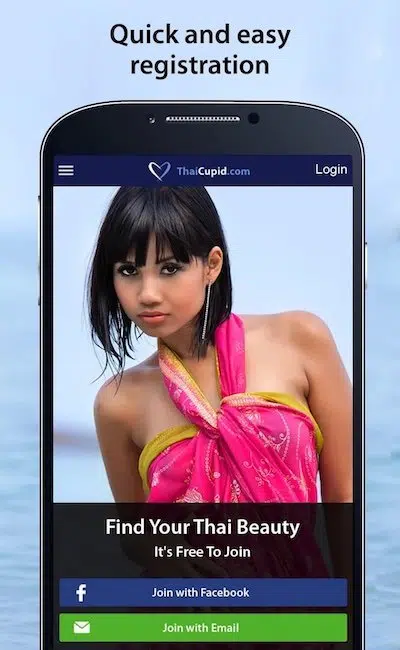 ThaiCupid app is only available for Android users.
Which is a shame for a premium dating site like this.
If you're an iPad or iPhone user, you have no choice but to use the site from your web browser.
Sure, the website's mobile version is well built and really responsive, but for that price you would expect more from the app.
Now for Android users, the app work really great, the chat is fast, and it's easy to find new interesting profiles.
But to create an account and use the advanced search feature, the desktop version remains the best option.
The app is too confusing for that.
ThaiCupid Premium
Yes, you can create an account on ThaiCupid, complete your profile, and send messages on the app. All for free.
But if you really want to have a conversation with any of the girls there, and have a chance to land a date, you're gonna have to pick a membership.
ThaiCupid offers two paid options : the Gold and the Platinum membership.
Extra Features
The Gold membership include :
Unlimited messages : now, you can send as many messages as you want to every user on the platform.
Live chat : get access to the in-app instant messenger to chat faster.
The Platinum membership include :
Every extra feature of the Gold membership
Rank above all free members
Double your profile space and have it highlighted
Advanced matching
Automatic message translation
Price
ThaiCupid membership cost:
Platinum
$39.99 for 1 month
$79.98 for 3 months (or $26.66 per month)
$159.99 for 1 year (or $13.33 per month)
Gold
$34.99 for 1 month
$69.98 for 3 months (or $23.33 per month)
$139.99 for 1 year (or $11.66 per month)
Note that by default, your membership will be renewed automatically right before it ends to avoid an interruption of service.
If you want to disable that feature, go to settings, billings, and turn it off.
There's also one upside to be on the most expensive Thai dating site available (only sugar dating apps are more expensive), there's less competition.
Of course, fewer guys are willing to pay for a subscription, which means there are less guys on ThaiCupid than on the other sites.
You feel it when you talk to hot Thai girls on the site. You can see they haven't been harassed by hundreds of messages like they would be on other apps.
ThaiCupid vs ThaiFriendly
So you might be wondering what's the best option between ThaiCupid and ThaiFriendly, or which one is best for you.
Without a doubt, ThaiFriendly is more popular, more casual, and also cheaper. It's the best option for most users.
But ThaiCupid has serious pros if you're looking for a serious relationship.
It has less spam, less competition, and it offers a level of information about the girls and guys using the platform that remain unmatched.
Combined with their advanced search and matching, it makes ThaiCupid the best Thai dating site to find serious Thai women.
Honestly, it's a bit like comparing Tinder vs ThaiCupid, or street food to a Michelin star restaurant.
Both address the same need, but in a really different way.
More About ThaiCupid
ThaiCupid is edited by Cupid Media, one of the world leaders in online dating who operate over 30 niche dating sites, including AsianDating, FilipinoDating, and many more.
ThaiCupid is available in 25 languages and has over 3 million users in 2021.
After over 15 years in operation, it is still one of the best websites to meet Thai girls living in Thailand, of course, and some living overseas like in Europe, North America, or even Australia.
FAQ
How Many People Use ThaiCupid?
ThaiCupid claims more than 3 million users on their website as of September 2021.
How To Create An Account On ThaiCupid?
How Much Is ThaiCupid?
ThaiCupid is only $11.66 a month with a 1-year membership. Find all prices and details here.
Is ThaiCupid A Scam ?
Absolutely not. ThaiCupid an established dating site operating since 2002 and edited by Cupid Media, one of the largest editor of niche dating sites in the world.
How To Delete My ThaiCupid Account?