ThaiFlirting Review
ThaiFlirting is the only 100% free Thai flirting site.
That's what their websites claims as soon as you open it, and after our review, we can confirm it.
It might no have the most users, the best design, or the best app, but you can't take away the fact that at least, it's completely free!
And for us, that's a good enough reason to give it a try.

Read our complete review of ThaiFlirting before you sign up.
Why Choose ThaiFlirting?
Like we said above, ThaiFlirting is the only Thai dating 100% free.
There's no limit to how many profiles you can see or like, to how many messages you can send, or of features you can use.
Everything you need to meet single girls on the site is entirely free.
And that's why most people use ThaiFlirting.
There is a "premium" version, but you don't need to pay if you don't want to.
Unlike some other dating apps we've reviewed.
👍 Pros
100% Free
Android app
Advanced search filters
Detailed profiles
Thai girls from all over Thailand (not only in big cities)
Virtual gifts
Videos
👎 Cons
Signing Up
You can create an account on ThaiFlirting with your email or by connecting your Facebook, Google, or Twitter account.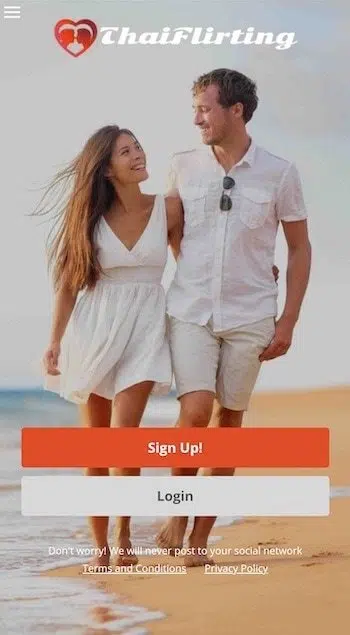 The site asks a lot of questions, and even though they give you options for the answers, it can take about 10 minutes to answer everything.
That clearly shows that ThaiFlirting is for those who want to find someone special. Or something more than a flirt.
But we found that signing process a bit long. And sure, you can skip the part where they ask you to complete your profile.
But let's be honest, if you want it to work and get the attention of Thai girls on the app, you better take some time to answer everything and make your profile attractive.
So sit down, grab a coffee or a beer and get to work.
After a few minutes, when you're done, it's time to start playing.
How To Find A Date On ThaiFlirting?
It's hard to say how many users ThaiFlirting really has.
The only thing we know for sure is it looks like there's a lot of people on it.
And even though the majority of users are in big cities like Bangkok or Chiang Mai, there are also quite a lot of single girls from smaller regions of Thailand like Khon Kaen or Surin.
Now to find a date on ThaiFlirting, you can click on "quick search" on the site or on the app.
But with a quick search, you can only choose the gender, the age range, the country and to show only the profiles with pictures.
So you can imagine what the results look like.
There are tons of girls from every corner of the country showing up.
That's why it's way better to use the advanced search.
Advanced Search
ThaiFlirting advanced search (only available on the website) lets you use up to 30 filters to find the perfect profiles. FOR FREE!
Gender, age, city, weight, height, nationality, language, smoking and drinking habits, religion, profession, education… and even the color of the eyes.
And you can save your advanced custom search to use it later.
Plus, you don't even need to pay to use all these filters.
If you don't find at least a profile that you like with that, there's really nothing we can do for you.
Profiles
Now that you've reduced the options to a few pages of profiles, it's time to go through them and like ("send a kiss") or favorite ("add to hot list") the ones you want to save for later.
The profiles on ThaiFlirting can be really complete and give you a lot of details about the girls on the platform.
When they've taken the time to complete them.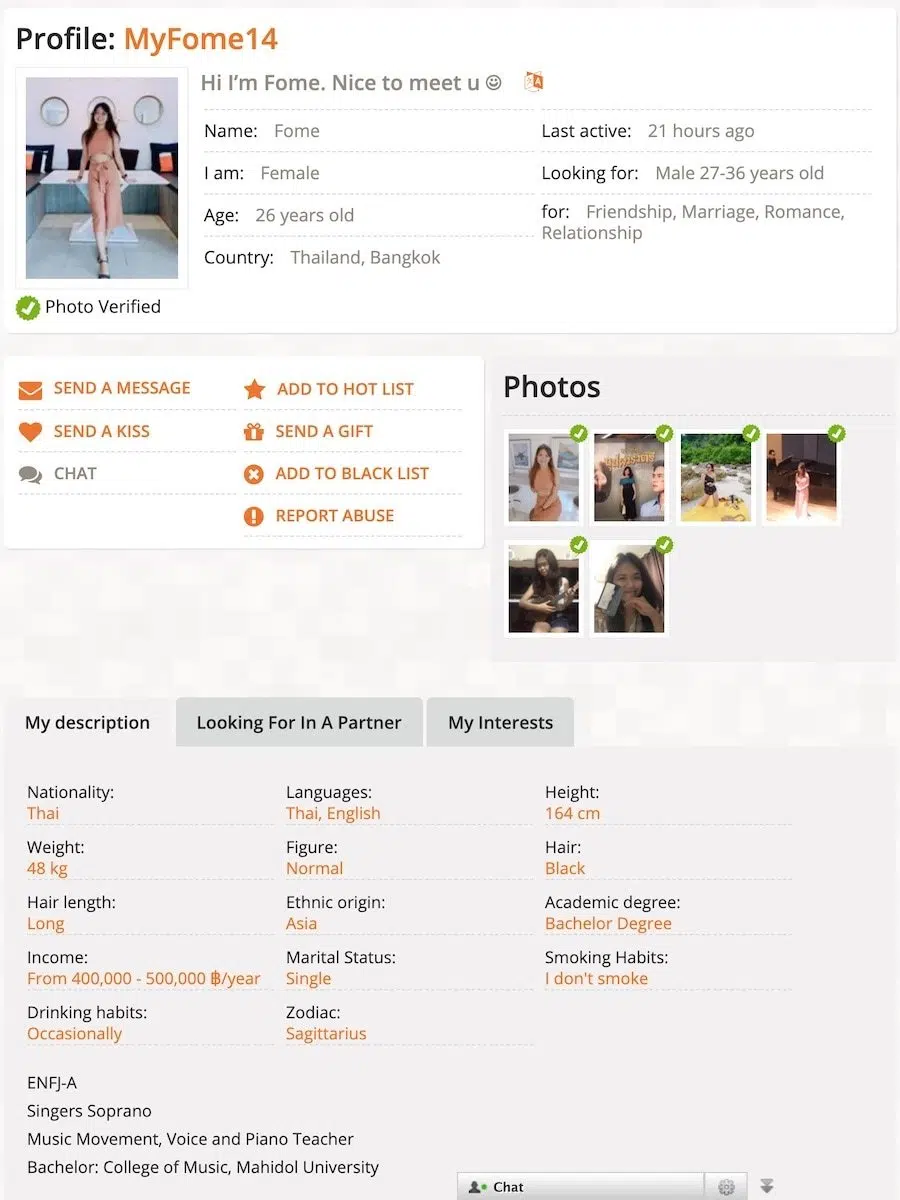 It's a bit of a hit or miss. Sometimes they do, sometimes they don't.
But when they do, that's where Thai dating sites are better than most international dating apps.
They give you a lot of useful information about who you're talking to.
This way you can avoid wasting your time with the girls that are too small, live too far, don't speak English…
You can also leave a public comment on a profile.
That's a bit weird, and you will see many hot girls profiles flooded with comments under their description.
But hey, why not.
Sending Messages
Now that you found girls you like, it's time to send them a message.
Nothing special to mention about ThaiFlirting"mailbox".
It works fine. And it's free.
Chat
ThaiFlirting also has an instant chat feature on its website.
With instant chat, you can have multiple tabs open at the same time at the bottom of the page, like you would on Facebook.
That's great if you're talking to multiple girls at the same time.
Buying (Virtual) Gifts
There's one thing we didn't mention yet, it's gifts.
It's something original on ThaiFlirting. You can buy virtual gifts for the girls you like.
Virtual chocolate boxes, red roses, diamonds, rings, or even virtual toys.
You buy coins on the site (more on that below) and use them to buy virtual gifts for your crush.
As the public comments on profiles, that's a bit weird. But again, why not.
ThaiFlirting App
ThaiFlirting app is only available on Android.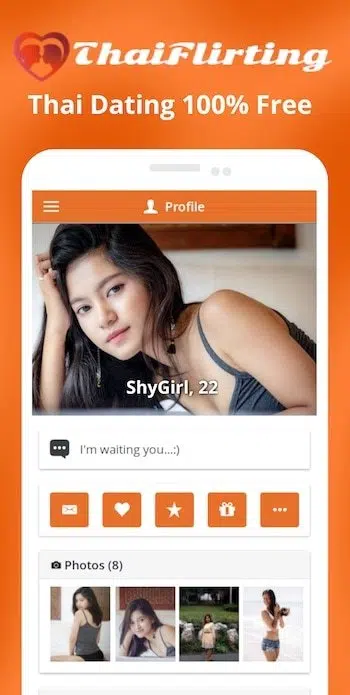 Unfortunately, iOS users have no other option than to use the site in their web browser.
That, for us, is the biggest downside of ThaiFlirting.
We love the fact that the app is free, that it's pretty well built and have an active community, but not having an app for iPhone is a serious drawback.
You can always use the mobile version of the site on your phone, but if you want a dating app for iOS, try ThaiMatch instead.
Now regarding the Android app, it's actually well built and really reactive.
It's doesn't have the most attractive design, and it doesn't have crazy features, but its light and simple to use on your phone.
Like ThaiFriendly app, ThaiFlirting app is better to chat and keep talking to the girls on the go.
But to create an account, set up your profile, and use the advanced searches, you've got to use the website.
ThaiFlirting Premium
So ThaiFlirting is completely free to use, and you don't need to pay if you don't want to.
But of course, the site needs to make money.
For that, it offers the possibility to upgrade to a premium membership.
So what comes with this premium membership?
50 coins back
You rank above the free members
Unlimited message translation
Unlimited messages without spam filter
You're allowed to send your email address in messages
A VIP badge
Ads are removed
That's clearly not necessary to be able to land a date on ThaiFlirting, but that's a nice option to have.
ThaiFlirting premium cost:
100 coins for 1 month (10$)
250 coins for 3 months (25$)
400 coins for 6 months (40$)
Add to this the fact that they give you coins back when you subscribe; it's actually the cheapest premium subscription of all the Thai dating sites we've tested.
But why do you have to pay in coins?
Let us explain.
Buying Coins
ThaiFlirting has its own virtual currency called coins.
To subscribe to their premium version or buy virtual coins, you need to buy coins on the site.
100 coins = 10$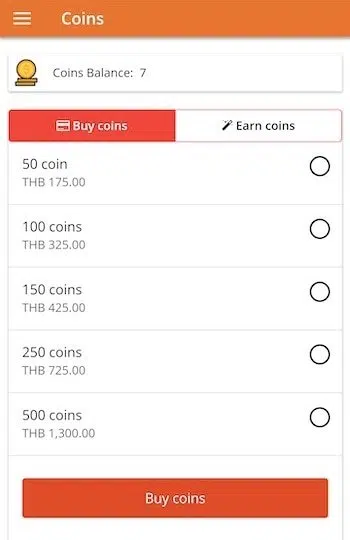 That's actually pretty cheap, and 100 coins give you one month of the premium, or up to 33 virtual red roses.
So even if you decide to spend some money on ThaiFlirting, it's not gonna ruin you.
Unless you go nut and start buying virtual Queen Crowns (each worth 12 coins) to all the girls you like on the site.
You can buy coins with your credit/debit card, or with a bank transfer.
More About ThaiFlirting
ThaiFlirting is edited by Aimdate, a company that owns a couple of niche dating sites (FilipinaLoves, RussianFlirting, LoveinAsia, and Ukrainadating).
Apart from being free, the other force of ThaiFlirting is its team who's always listening to the community's feedback to improve their website.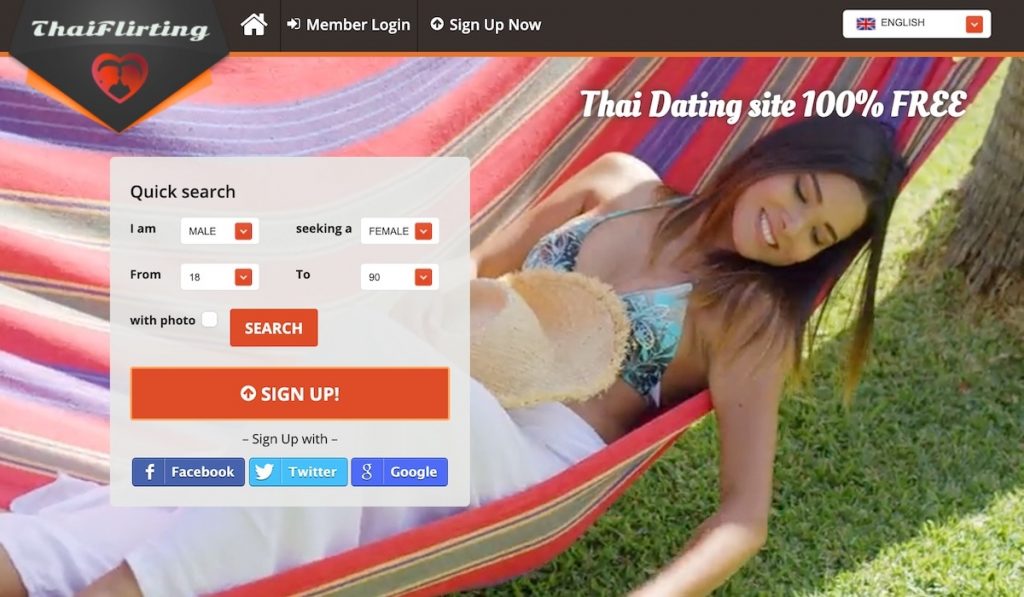 FAQ
Is ThaiFlirting really 100% Free?
Absolutely! You can find a date online with ThaiFlirting without spending a single baht. The site offers a premium subscription, but you don't have to pay for it to use the site.