ThaiMatch Review
With already over 450,000 Thai singles, ThaiMatch, the Thai answer to popular dating apps like Tinder, is already widely used by Thai girls.
If you like to swipe left or right to find a date, and you love Thai girls more than anything else, ThaiMatch is for you.
The app is free to use, and it only takes a few minutes to sign up and get started.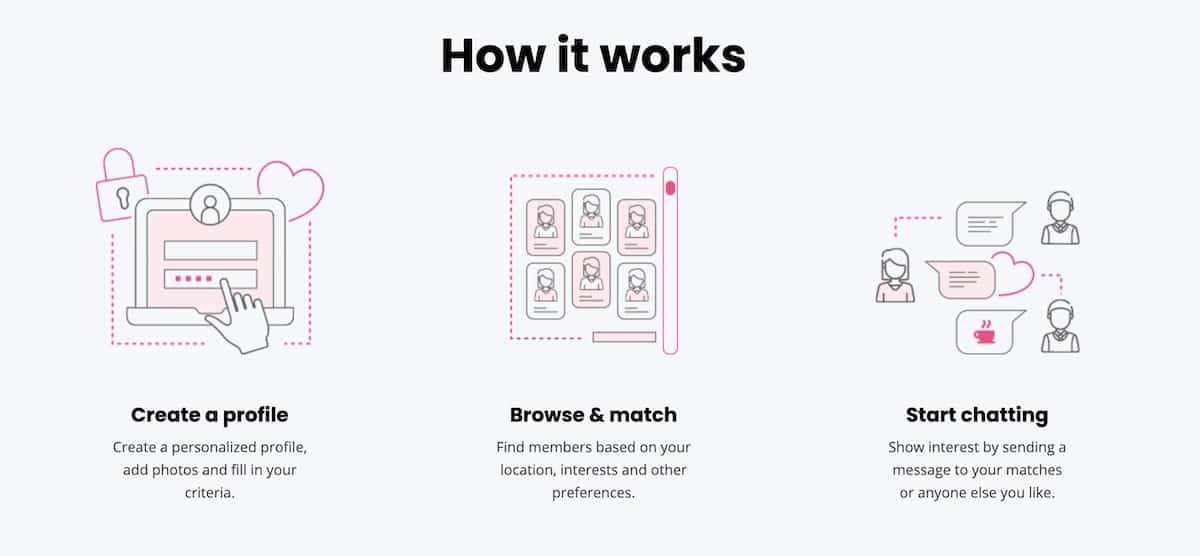 But if you're here to know if ThaiMatch is for you, or learn more about Thailand's 3rd most popular dating app before you sign up, here's everything you need to know about it.
Why Choose ThaiMatch?
As of March 2021, ThaiMatch has over 450,000 users, with a 50/50 ratio of guys and girls.
It's not quite as much as ThaiFriendly and ThaiCupid, which both have over 2 million users, but it's already enough to keep you busy for a while.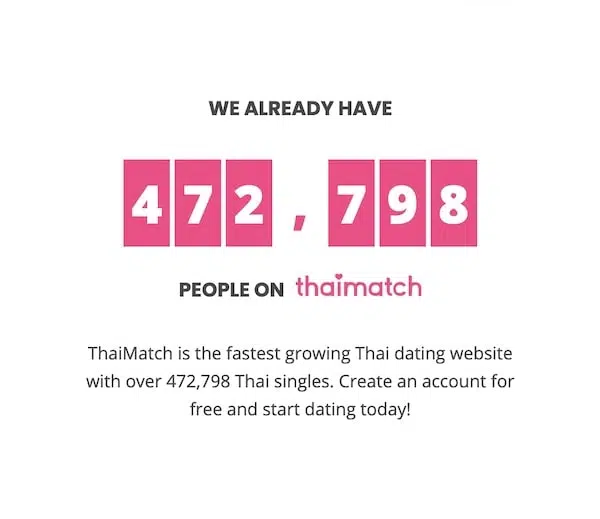 But the reason to pick ThaiMatch is obviously not its number of users. It's its design, functionalities, and ease of use.
It's as beautiful and simple as Tinder, but it has more filters to help you find a girl you're going to like, where you are, or where you're going next.
On ThaiMatch, you can sign up, browse profiles, and send messages for free. But you can only send 1 message every 10 minutes with a free account.
To send unlimited messages, you're going to have to upgrade to a premium subscription.
That being said, when you do decide to upgrade, you have more than unlimited messages. It also gives you way more visibility and matches.
That's a small investment which can prove to be really valuable when you're actively looking for dates.
👍 Pros
Easy to use
Popular with young Thai singles
Lots of active users
App on both iOS and Android
Option to filter ladyboys
👎 Cons
Only allowed to send 1 message every 10 minutes on the free version
1 month subscription is expensive ($14.95 or $25.95)
Less users than ThaiFriendly, ThaiCupid, or Tinder
🎯 Great for
Fun and casual dates
Foreigners looking for young Thai girls
Signing Up
Creating an account on ThaiMatch is super fast and straightforward.
You can sign up with your Facebook or Google account or use your email.
Once you picked the option you prefer, all you have to do is fill in a short form to give more details about yourself, and what you're looking for.
Note that Thaimatch might block your account right after you signed up if they have any doubt about your identity or think you're a bot.
It happened to us too, so don't panic. It's pretty easy to fix.
Once they temporarily suspend your account, all you have to do is send them a selfie with a 3 fingers sign for verification. That verification can take a few hours, and then you're allowed back it.
In our case, it took 2 hours.
It's a bit annoying. But if that's an effective way to keep spam on the platform to a minimum, we take it.
How To Complete Your Profile?
Setting up your profile on ThaiMatch only takes a few minutes.
All you have to do is add a short description, one or two photos, add your gender, sexuality, ethnicity, if you're smoking or drinking, describe your look (height, weight, body type), where you live, and what you're looking for (gender, age, and type of relationship).
That's just the right amount of details we like on profiles. It takes 2 minutes to complete, and it's enough to keep the girls you don't want away.
Another thing that caught our attention in the profile settings is the ability to hide your profile to ladyboys. We tried every Thai dating apps on the market, and that's the first time we see something like that.
Not bad if you're tired of guessing if that hot Thai girl who sent you a message is in reality a dude (we both know that's often the case).
How To Find A Date On ThaiMatch?
Now let's get to the fun part, finding a date on ThaiMatch.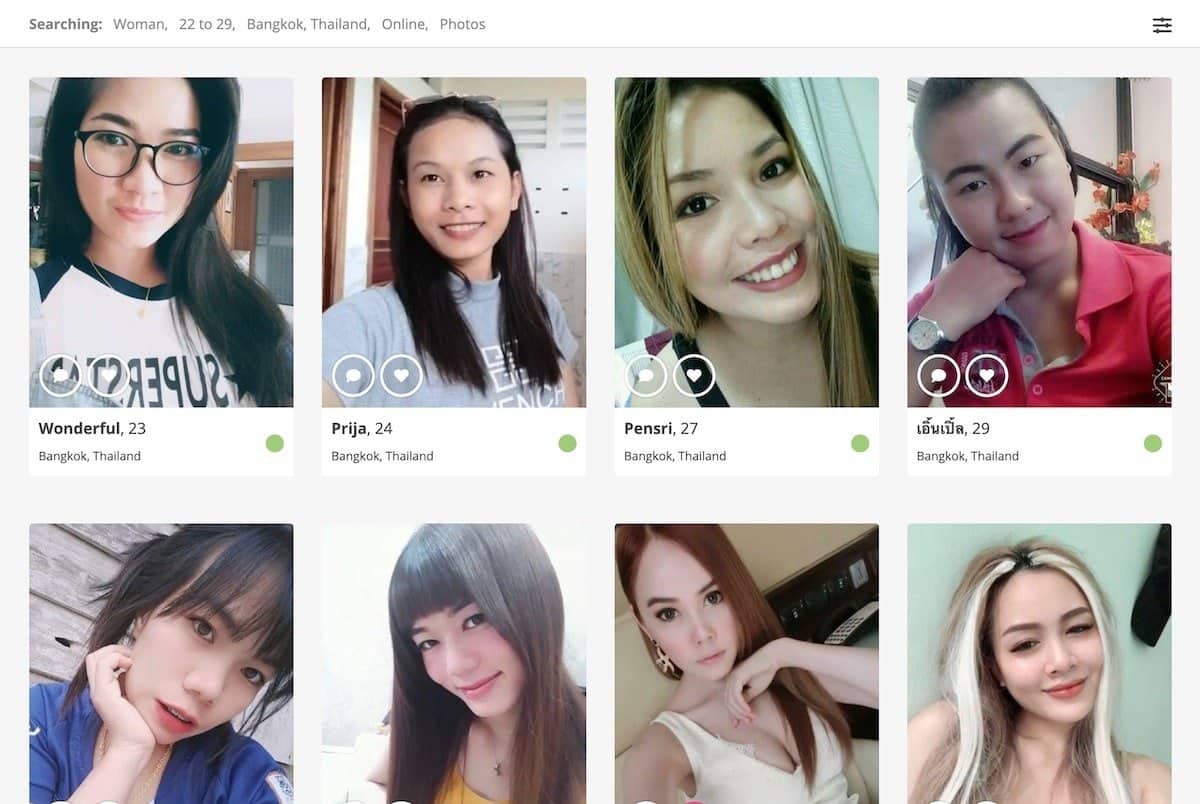 Browse Profiles
Finding interesting girls on ThaiMatch is super easy.
Simply go to the homepage, click on the filters, pick what you're looking for, and see who's on the platform.
The filters available are:
Sex: female, male or ladyboy
Age min and max
Country
City
Has photo
Online now
Matching

That's not a lot of filters, but all the basics you need are there.
The best is to have the ability to sort Thai singles by country and city, even on the free version. This way, you can find Thai girls wherever you are, as well as wherever you're heading next.
You're in Bangkok and you're planning a trip to Pattaya, Chiang Mai, or Phuket? Check the girls available there before you go.
Now that you've filtered the profiles, you can have a look at them, and either choose to like the girls or to message them directly.
That's right, unlike Tinder, you don't need to have a match to send a message.
But that also means anyone on the platform can message you. Not a problem if you ask us, but if it's that an issue for you, keep it in mind.
Now if you don't care about all these details and you just want to find Thai girls around you, ThaiMatch also has a feature similar to Tinder where they show you one profile at a time.
The only difference is that instead of swiping left or right on the girls they show you, you click on "Hide", "Like", or send messages directly.
And again, you don't need to wait for a girl to "match" with you to message her.
Dating Profiles
The profiles on ThaiMatch are neither too detailed, neither too short.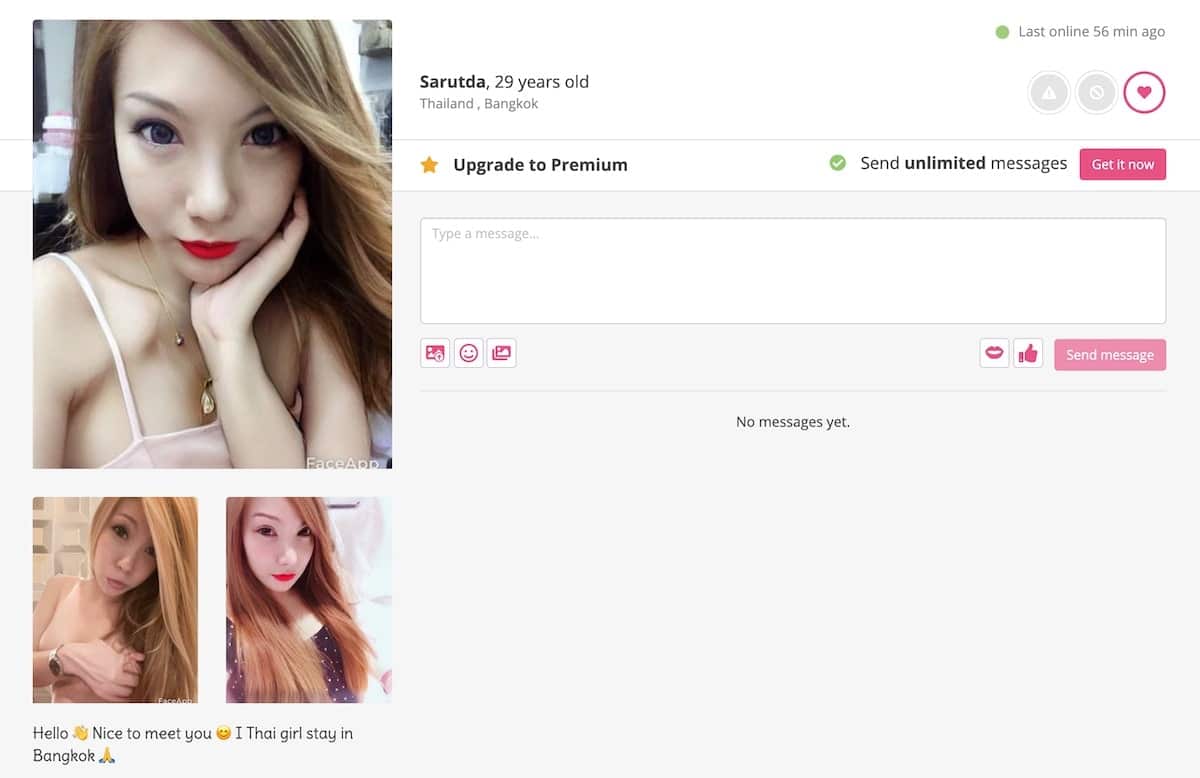 That's a problem with a lot of popular dating apps at the moment, which only allow users to have a short description. That means you've got to ask the same questions over and over to know more about girls you match and find someone you really like. (How old are you? Where do you live? How tall are you?…)
On ThaiMatch, you can learn quite a few things about the girls only by looking at their profiles. Like their age, where they live, their height, weight, what they're looking for on the app, and if they drink or smoke.
To be honest, we like that. That's all we need to know before we start the conversation.
Sending Messages
Now, messages are where things get tricky on ThaiMatch.
It's without a doubt one of the easiest Thai dating apps to sign up, set up your profile, find girls you like, and match with them.
But then comes the time to send messages, and unfortunately, on ThaiMatch you're only allowed to send one message every 10 minutes with a free account.
To unlock unlimited messages, you're gonna have to pay.
In a way, you can still get a date for free if you don't want to spend any money. But that's gonna take a while.
If you want to send unlimited messages and chat with a ton of girls, you have to upgrade to a premium subscription (more on that below).
Chat
Nothing special to say about ThaiMatch chat. It's fast, easy to use, has emojis, and photos.
And it works great both on the website and on the app.
ThaiMatch App
Talking about the app, that's another thing to love about ThaiMatch.
This dating site has an app on both iOS and Android.
If you're familiar with Thai dating apps, you probably know that most dating apps in Thailand don't have an iOS app.
So that's good news for iPhone and iPad users.
ThaiMatch app works great on both platforms. The design is simple and pretty, and its easy to find matches and to send messages on the app.
What about the reviews? On the App Store, ThaiMatch is rated 4.6, and most people seem to love the app. On the Play Store, it's only rated 3.6, and reviews often say the app is slow and pushing a lot the subscription.
We tried both, and we haven't seen anything to complain about. The only thing we can say is it's easier to create an account and find girls on the website. So sign up there, then switch to the app.
ThaiMatch Premium
To be clear, you don't need to pay for ThaiMatch if you don't want to.
There are enough free functionalities on the app to manage to get a date without spending any money.
But if you want to take full advantage of the site and send unlimited messages, you need a subscription.
ThaiMatch has 4 different types of paid options.
Remove ads for $9.99
For $9.99, you can remove ads on the website and on the app for life. To be honest, the ads are quite discreet on ThaimMatch, so we recommend you save those $10 for your date.
Boost your profile for $4.99
ThaiMatch says it 10x your number of matches during 2 hours with that. We haven't tried it, so it's hard to say. But it can be worth it if you got a good profile, you're in a big city, it's already Friday, 6pm, and you don't have a date to go out. Or if you're really horngry.
Premium from $7.49 per month
With a Premium Thai Match subscription, you get unlimited messages and unlimited matches.
That's where things get interesting and clearly the best subscription to unlock the potential of ThaiMatch.
ThaiMatch Premium prices are:
$14.95 for 1 month
$65.95 for 6 months (or $10.99 per month)
$89.95 for 1 year (or $7.49 per month)
VIP from $13.00 per month
With a VIP Thai Match subscription, you have the same advantages as Premium (unlimited messages and matches), a VIP badge to have your profile stand out, and you receive more messages.
It also comes with 1 free booster.
ThaiMatch VIP prices are:
$25.95 for 1 month
$114.42 for 6 months (or $19.07 per month)
$156.00 for 1 year (or $13.00 per month)
ThaiMatch only accepts credit cards on the website. But on the app, you can pay directly with Google Pay or Apple Pay depending on the phone you use.
And keep in mind their subscriptions are by default in auto-renewal. So don't forget to add a reminder to cancel your subscription before it expires if you don't want to renew it.
Contact
If you have any problem with the app, the best way to contact Thaimatch is to send them a message on their contact page.
Unfortunately, they're not really active or responsive on their social media, so the website is the best way to contact their support.
FAQ
How much cost ThaiMatch?
ThaiMatch is free to use. Like other Thai dating sites, it has different subscription options if you want to unlock more functionalities. But you can easily use it for free and manage to get a date without spending a baht if you want to.