ThaiKisses is a unique Thai dating site dedicated to connecting Western men with beautiful single Thai women.
But with so many alternatives, what makes ThaiKisses stand out?
Is it still the right dating app to find the Thai wife you're dreaming of?
That's what we tested for you.
Read the rest of this review to learn more.
Ready to set off on your Thai dating voyage?
Test the waters with ThaiKisses for free today!
Why Choose ThaiKisses?
Alright, let's dive right into it.
Why ThaiKisses?
Well, with a multitude of flashy and over-complicated Thai dating apps with a huge list of features, ThaiKiss knows how to stay simple.
It's a dating site that is easy to use and where you have an older crowd, with most singles in their late 30s and older.
And it's not just a platform; it's also a community.
At ThaiKisses, they take your search for love seriously, but with a side of fun and adventure.
They've worked hard to create a simple, user-friendly platform, and it's clearly with it's still popular after over 10 years in business.
With a solid matchmaking algorithm, a user-friendly messaging app, and a great video chat feature, they're here to make your online dating experience more enjoyable.
However, ThaiKisses isn't perfect.
Every dating site has its hits and misses, and ThaiKisses is no exception.
👍 Pros
700,000 active members, so there's no shortage of options.
Video chat: Looking forward to seeing that lovely smile of your date? You can do that with the video chat feature.
Matchmaking algorithm: This powerful feature increases your chances of finding the perfect match.
In-app chat: nothing incredible about the in-app chat but it gets the job done where other dating apps are sometimes struggling!
👎 Cons
Messaging is available only for premium members. Well, some of the best things in life are worth paying for!
No iOS app: sorry iPhone users. But the website is mobile-friendly and easy to use on your phone's browser.
A limited number of contacts per month: on the bright side, it helps you focus on quality over quantity.
Who Is ThaiKisses For?
ThaiKisses is supposed to be for anyone and everyone who's looking for their dream Thai date.
But in reality, from our test, we've seen that it's a dating site that is more for an older crowd.
Let's say anyone in their late 30s and older.
And for people who are looking for a serious relationship or at least something more than a one-night stand.
Give ThaiKisses a go for free!
If you're looking for something casual and younger Thai girls, try Thaifriendly for casual dates or Seeking for Thai sugar babies.
Sign Up On ThaiKisses
So, how do you get started on ThaiKisses?
It's super easy.
Register with your email.
Provide your real name, gender, date of birth, and country.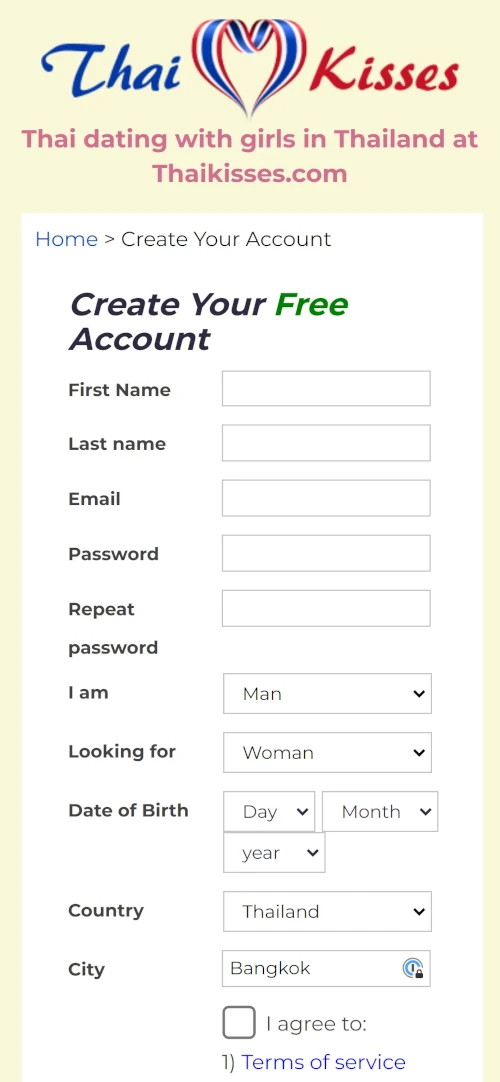 Confirm your email.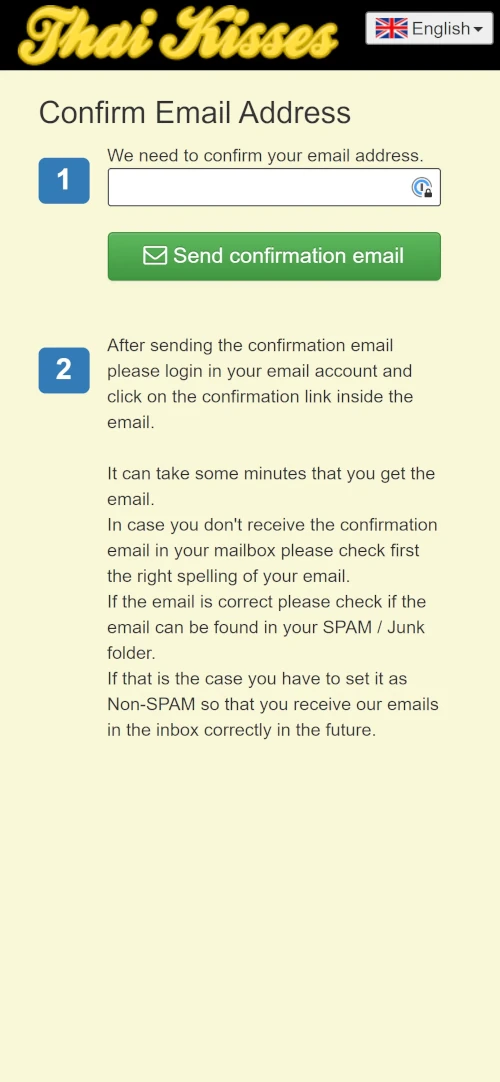 Fill in your profile.
The more detailed your profile, the better your chances of finding a compatible match.
Upload your best photos.
Remember, a good picture can tell more than a thousand words!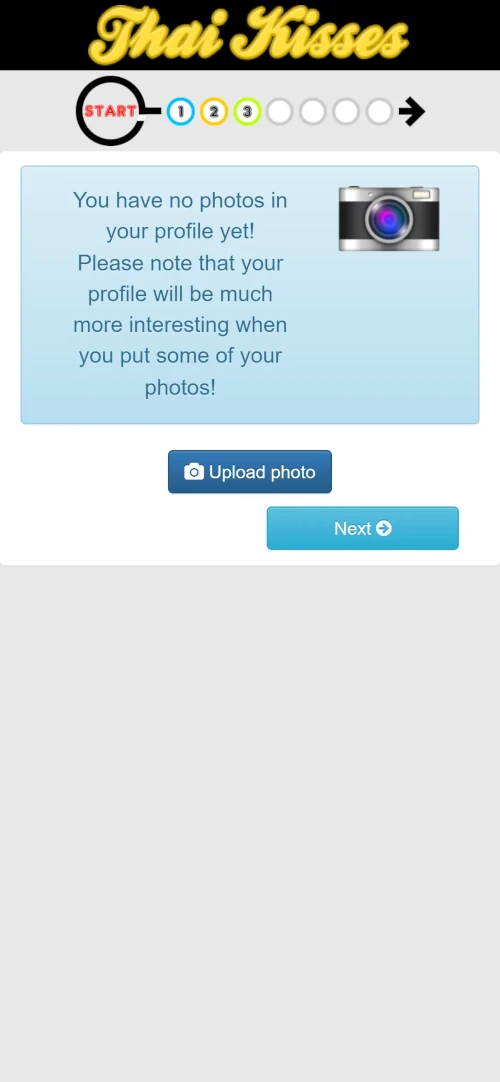 Craft a catchy tagline.
Make it fun, make it you!
Steps 4, 5, and 6 are super important, so take a few minutes to really put some effort into it.
A fully completed and attractive profile is your introduction, your first impression to potential matches.
It's how you sell yourself.
And the more it tells about you, the higher your chances of finding the right match.
Eager to kickstart your Thai dating journey?
Create your ThaiKisses account today!
How To Find A Date On ThaiKisses?
Finding a date on ThaiKisses is as easy as finding good street food in Thailand.
Browse through profiles, and filter matches based on your preferences – be it gender, age, height, weight, country, city, or language, you name it.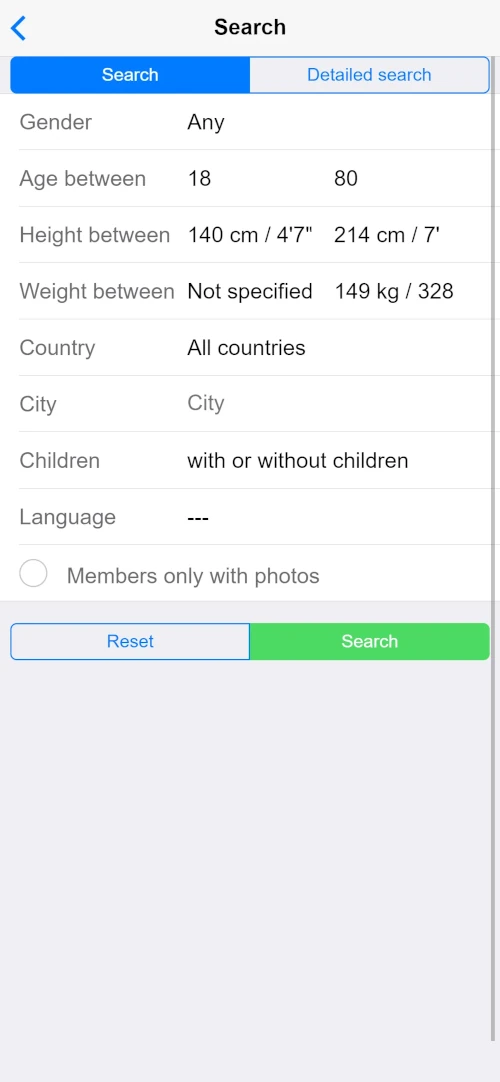 Oh, and don't forget to check out the photos!
Show your interest by sending a message, adding a profile to your favorites, or adding to your contact.
Remember, the first move can be a game-changer!
Don't be shy, and put yourself out there.
Ready to find your Thai date?
Search, match, and connect on ThaiKisses for free!
ThaiKisses Chat
So you've found someone interesting and are ready to initiate a conversation?
Great!
Now it's time to open the chat and send your favorite icebreaker.
And don't worry if you're not fluent in Thai, ThaiKisses auto-translation got your back (but only if you have a premium account)!
ThaiKisses Premium
Now, let's talk about stepping up your dating game.
With a premium account, you unlock limitless opportunities.
From unlimited messages, video chat, to private photo sharing, and translation services – it's like getting the keys to the dating kingdom.
But the real cherry on top?
You get to see who viewed your profile, and who liked your photo and enjoy full access to photos and contact details.
Not to mention, you get to feel like a VIP with 24/7 customer support!
How Much Is ThaiKisses?
The price for the premium features is:
1 month: 15.90€
3 months: 39.90€
12 months: 99€
The only payment method accepted on ThaiKisses is credit cards.
Ready to unlock unlimited Thai dating fun?
How To Contact ThaiKisses?
If you're facing any issues with the site or the app, ThaiKisses' team is here to help.
You can reach them through live support in the app, by phone, or by email.
They also have a detailed FAQ section that answers most of your questions.
So, there you have it.
ThaiKisses is a pretty solid option for Thai dating.
But don't forget, there are other Thai dating apps like ThaiFriendly to explore too!
Give ThaiKisses a try and who knows, your Thai love story might be just around the corner.
So why wait?
Your journey to Thai dating starts with a kiss – a Thai Kiss!
Any Questions About ThaiKisses?
Ask us anything in the comments and we'll do our best to answer your questions.
Or share your experience on ThaiKisses with us.
And don't forget to check out the other popular Thai dating apps and sites to find the perfect Thai girl.