Tinder Thailand Review
We all have a good reason to love or hate Tinder, but as the number one dating app in the world and in Thailand, you can't ignore it.
And there's actually a lot to like about Tinder.
It's simple to use, fun, and (almost) everyone is on it.
You can use Tinder to find the love of your life, a one-night stand, or to make friends.
Does that mean it's better than ThaiFriendly, ThaiMatch, or ThaiFlirting to find a date in Thailand?
Not necessarily. It's just different.
And each dating app has its pros and cons.
But if you're single in Thailand, Tinder is a must-have.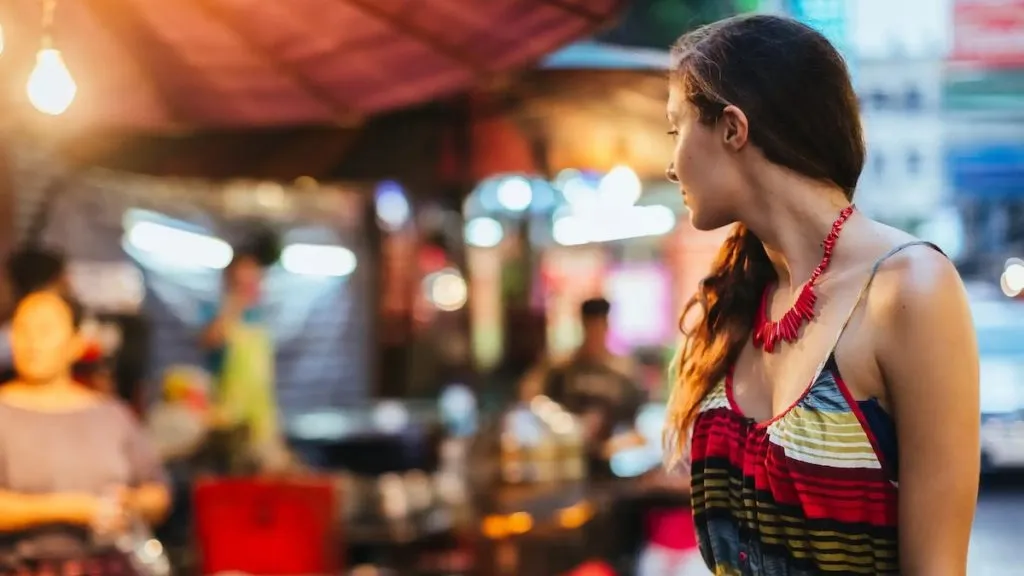 Why choose Tinder?
The number one reason to use Tinder is the number of people on the app.
If you're in one of the big cities in Thailand like Bangkok, Pattaya, Phuket, and Chiang Mai, you can probably swipe forever and never see the end of it.
It's an endless ocean of singles available at your fingertips.
And even thought Tinder is mainly used in big cities, it's slowly spreading to every corners of Thailand.
The app is also great to meet Thai girls AND foreign girls.
If that's what you want, Tinder is the app to have.
On top of that, Tinder is mostly free, and you will have no problem landing a date without spending a baht on the app.
Unlike most Thai dating apps we have reviewed.
That should be enough to convince you to at least download the app and try it.
👍 Pros
Tons of users
Thais and foreigners
Easy to use
Mostly free
Connected with Instagram
Fast chat
👎 Cons
Too many users?
Not a lot of details on profiles
You can only see singles around you (with the free version)
Doesn't separate girls and transgenders
How To Sign Up On Tinder?
Signing up on Tinder is really straightforward and only takes a few seconds.
Connect your Facebook or Google account, upload a photo, write a description, tell the app what you want, and start swiping.
It doesn't get easier than that.
Tinder is by far the easiest dating app to use, regardless of your age or how tech-savvy you are.
How To Find A Date On Tinder?
You've heard it before, Tinder is all about swiping.
Swipe left if you don't like her, swipe right if you do.
If you both swiped right on each other, you have a match!
A match opens a conversation, and you can start messaging each other.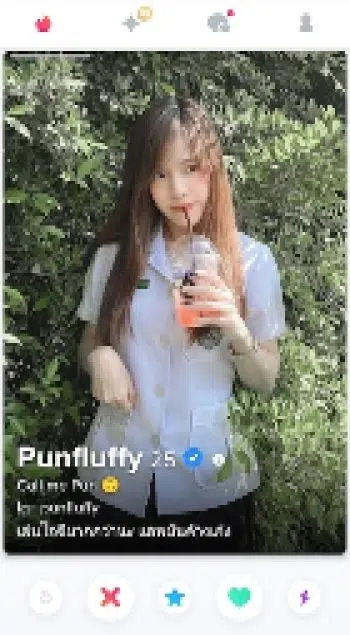 Unlike most Thai dating apps, Tinder doesn't have a limit of free messages.
You can chat as much as you want for free and even do a video call in the app.
Profiles
When you get to the profiles, that's where it gets tricky for us.
On Tinder, profiles consist of only one or a few photos, a short description, and maybe a link to her Instagram.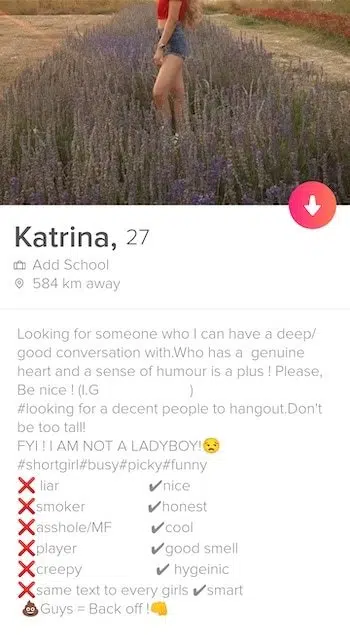 That's great if you're looking for something casual.
But if you're looking for your future wife, or a serious relationship, you will probably find it pretty limited.
It means on Tinder, you don't know much about the person you're talking with.
Unless they mention it in their description, you don't know where they're from, if they speak English, how tall they are, what they like, what they want in life…
All you have is a photo, a name, and their age.
Ok, recently, Tinder added "interests" on some profiles, and you might see what they like on Facebook, but that doesn't tell you much about someone.
If that's cool for you, awesome.
But if you don't want to have to ask the same questions a thousand times, you might want to try another dating app.
Chat
At this point, Tinder is a multi-billion dollar business, and you feel it when you use the app and its chat.
Tinder chat doesn't have anything to envy to Messenger or Line.
It's fluid, fast, has GIF and video chat (but no photos, they probably had enough with d*ck pics).
It's perfect for chatting and arranging a date.
Because remember, that's the end game here.
Don't get too caught up with swiping a million times.
Find a few profiles you like, start a conversation, and meet them in real life.
Tinder App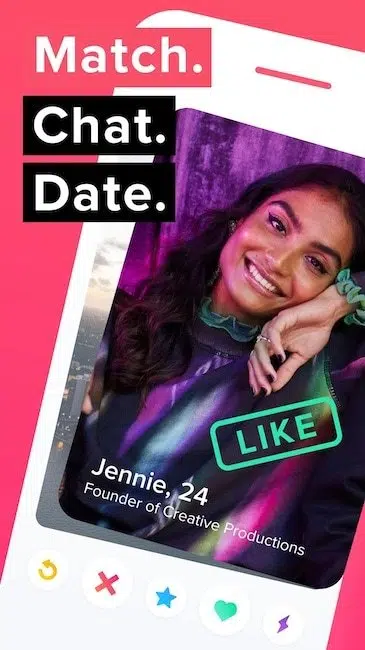 Tinder is available on both iOS and Android for free.
And that's the only way to use Tinder because it doesn't have a web version.
But the app is top notch, and there's not a lot of features, so you don't need to use a web version of it.
How Much Is Tinder?

As we said, Tinder is free.
But of course, they have premium options if you want to unlock extra features.
Right now, Tinder has 3 subscriptions options :
Tinder+

Unlimited likes
Unlimited rewinds (more useful than you think)
5 super likes a day (instead of 1 with the free version)
1 free boost a month
Passport to any location (to match with singles anywhere in the world)
No ads
Tinder Gold

Everything in Tinder+
See who likes you
New top picks every day
Tinder Platinum

Everything in Tinder Gold
Prioritized likes (you rank above free users in likes)
Message before matching (like in most other apps that don't have the match option)
Here a recap of the differences between the 3 options.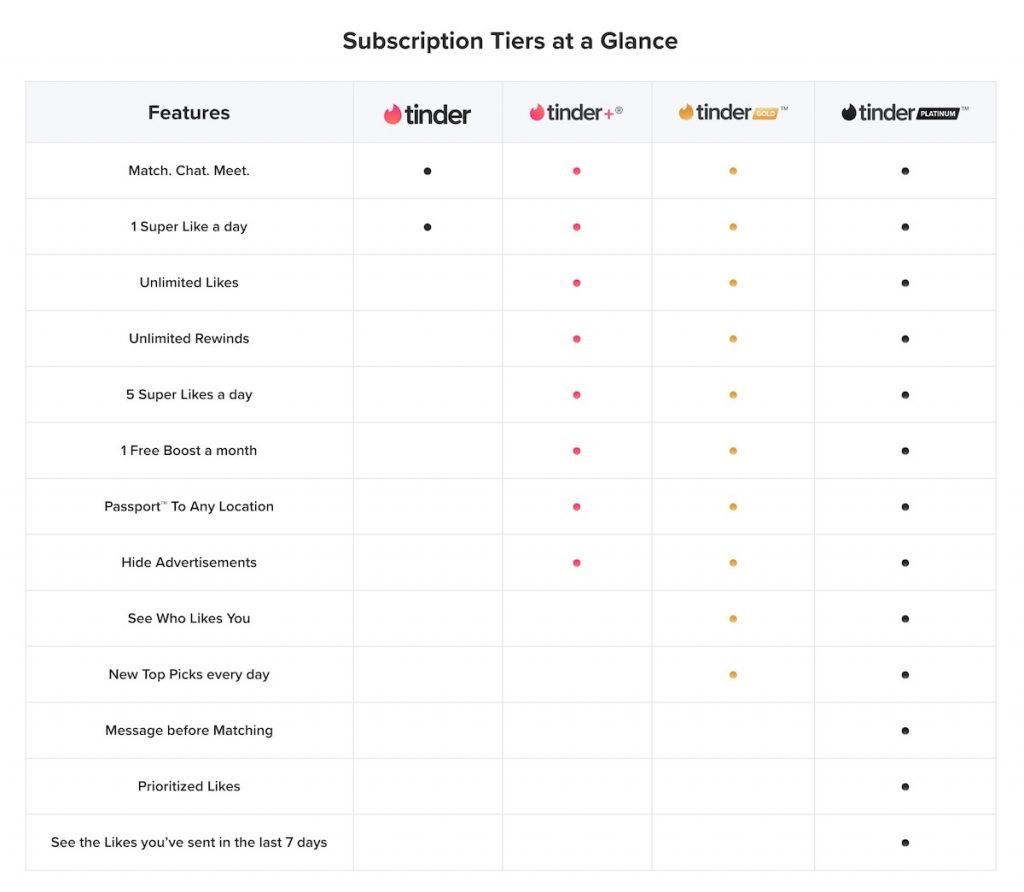 Price
Now for the price, it varies depending on where you live.
Tinder in Thailand is about the same price as most Thai dating apps if you get Tinder+, but pretty expensive if you go for Tinder Gold.
Tinder+ price is:
325 THB for 1 month
1,125 THB for 6 months (187.5 THB / month)
1,750 THB for 12 months (145.83 THB / month)
And for Tinder Gold, it's 475 THB a month!
At this price, you better be active on the app to have a good ROI on it.
But don't worry too much about the price as they often have promos with 50% off Tinder Gold.
So you can try it at half price and see if it's worth it for you.
It's not cheap, but based on all the feedback we had, it works really well. Especially in Bangkok.
Limitations Of Tinder In Thailand
Yes, Tinder has many great things going on, and as we said in the intro, it's a must-have if you're single in Thailand.
But the app does have some limitations when it comes to dating in Thailand.
1. There's a lot of ladyboys and freelancers on the app
This comment comes back over and over when you talk about Tinder in Thailand.
People say it's full of ladyboys and prostitutes, which is not entirely false. But to be honest, it's not as bad as it used to be.
It's true that in some cities, especially Pattaya and Phuket, you will find a lot of freelancers on the app.
Now that craigslist's personals ads are dead, it's a good way for these girls to find customers.
But if you're looking to pay for sex, you should use an app like Smooci instead that specialize in escorts.
Now about ladyboys it's a different problem.
2. Tinder doesn't separate girls and ladyboys
That's a problem every international dating app have in Thailand, not only Tinder.
They have 2 options for genders: female or male. Everyone else falls into one of these two baskets.
That's where Thai dating sites and apps are better in a sense.
They have a third category for transgenders.
So Tinder isn't the best dating app if you're not into ladyboys, or if you are, because it's hard to find them or avoid them on the app.
3. You can only find girls around you (unless you get Tinder+)
Tinder is great if you want to find a date around you, less if you want to start talking with girls who are where you're heading next.
For example, on ThaiFriendly, ThaiFlirting, or Thaicupid, even with the free version, you can talk to every girls on the site, regardless of where they are.
On those apps, you can look for girls anywhere you want in Thailand, or even in the world, for free.
You don't need to pay extra for that.
4. Connects with your social media
Tinder is better when you connect it with Facebook, Instagram, and Spotify.
So if you want to be low key, that's probably not the app for you.
More About Tinder
According to App Annie, Tinder became in 2019 the number one dating app in Thailand by number of downloads, surpassing Badoo.
To tell you how popular the dating app is in Thailand, in December 2020, it partnered with the Tourism Authority of Thailand (TAT) to organize matchmaking trips in the country.
That's it for our review of Tinder Thailand.
If you want to try other apps like Tinder in Thailand, you should look at ThaiMatch or ThaiFriendly.
ThaiMatch has a similar design and features, while ThaiFriendly has more detailed profiles and allows you to find dates everywhere in Thailand for free.
Like Tinder, both are easy to use and have young Thai girls on them.
FAQ
How to use Tinder in Thailand ?
Download Tinder app, connect your Facebook or Google account to create a profile, upload a photo, write a description, and start swiping.
Does Tinder work in Thailand?
Yes, Tinder work really well in Thailand. It is the dating app with the most users in Thailand and people are really active on the app.